Mike Spencer

Artist Blacksmith
---
Couerl -- The black Destroyer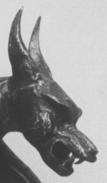 ---

The first The Canadian Science Fiction and Fantasy Award, later to become the Aurora under the aegis of the Canadian Science Fiction and Fantasy Association . Presented to A. E. Van Vogt at Halcon 3 (Halifax, Nova Scotia) in 1980 in recognition of lifetime achievement in science fiction.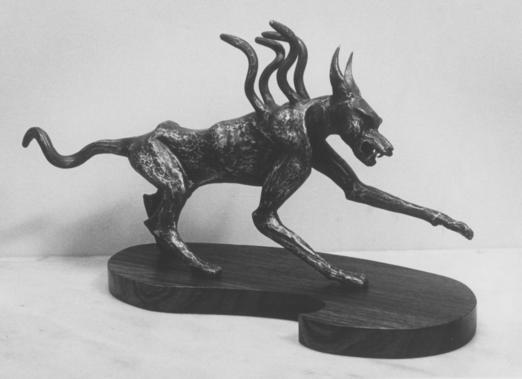 Commissioned by John Bell, Bob Atkinson, George Allanson and Sheldon Goldman for Halcon. When I received the commission, I was keen to do it. I had read much of Van Vogt's work years before along with a great deal of other science fiction. Only I didn't know how I was going to manage to execute it. But shortly thereafter, and before the work was due, I went to a week-long workshop with Philadelphia sculptor Chris Ray.
Chris, now sadly no longer with us, was the author of the bizarre and strangely compelling Mansect series of sculptures (among many others) that I admired extravagantly. The week with Chris provided the technique I needed to raise and form the hollow body of Couerl.
Raised 16 ga. steel and hot-forged steel on a rosewood base. Design by Mike Spencer and Owen Olton based on the description in Van Vogt's story, The Black Destroyer, and the original artwork in the July 1939 issue of Astounding. The head and extremities are forged from solid bar and all the numerous pieces assembled by gas and electric welding. Fangs are set into holes drilled the the jaws. It has been erroneously reported in science fiction fandom that this piece is "cast iron". It's not.
---
Many thanks to Robert Whitelaw who made the rosewood base; to Owen Oulton for design collaboration; and especially to Chris Ray for his long-time and continuing inspiration.

Original photos by Peter Barss
---
Updated: Sat 23 Feb 2008