Michael Spencer

Artist Blacksmith
---
What is a Snarling Iron ?
We've been discussing this on TheForge and the consensus is that words don't seem to capture this thing very well if you've never seen one. Here are a couple of images that show how a snarling iron is shaped and, more or less, how it is used.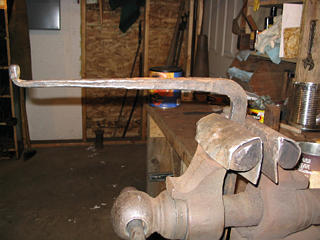 This one is forged from 1/2" x 1" mild steel. It might work better if it were made thinner and from a more springy steel.

I read somewhere that using an iron bar instead of an ordinary hammer to strike the tool makes things easier. That seems to be true because you don't have to think about the orientation of the hammer.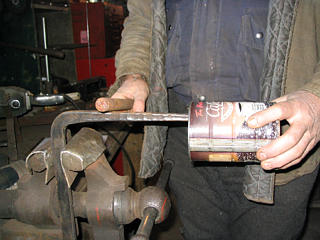 The working end of the tool should be smooth but not polished. If it's polished, it makes it harder to keep it positioned just where you want it inside the workpiece. It will tend to slip too easily off of high spots – low spots, that is, as seen from the outside.
After finding the sweet spot on the "hammer" and on the tool, press the workpiece firmly against the working end and give the tool a snappy blow. A ding should appear in the workpiece, pushed up from the inside. The coffee can shown now has a nice little ridge around it near the bottom. I'll finish forming it into a Baroque teapot when the weather's warmer. :-)
Disclaimer: This is a hack. It could work better than it does, maybe much better. Anyone who has some good experience with these things should emerge from lurk mode on TheForge and tell me – us – all the tricks I don't know.
---
Thanks to Peggy for the photos with her new digital camera. They look great in my graphics software but not quite so good in my browser. YMMV.
---
Updated: Fri 02 Apr 2004