Coal crusher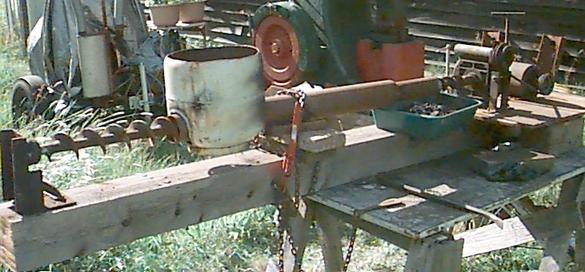 In my previous shop, I had a manual gadget made out of 12" channel, bolted to a post with a 6' handle to deal with oversized coal. Hard work. In the new shop, I've already made something else out of the heavy channel.
So with some fist- and brick-sized coal to crush, this is what I rigged up.
A 3450RPM 1/2HP motor drives a furnace stoker worm-gear box which drives the stoker worm at ca. 6 RPM. The propane tank is a hopper. The coal is trapped by the worm, forced into the large pipe, then forced into a smaller pipe where the stoker worm changes size. Not shown, a sheet metal chute (replacing the plastic kitty litter tray) that dumps the output into a tub on the ground. Really really slow but it gets the job done.
Never throw anything away. I've had the stoker worm around for so many years I've forgotten where it came from.
---
Mike Spencer -- Wed 16 Jun 2010