Glitch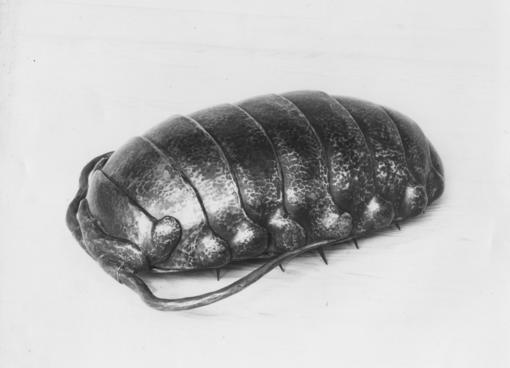 This was one of those wonderful commissions where the client says, more or less, "I have this much money to spend. Make me something neat." Commissioned by fellow artist George Allanson who is also a computer enthusiast and technology manager.

In the summer of 1963, back when it was meaningful to speak of "the computer" at MIT, a friend had a summer job as a programmer on the time share system there. She reported that someone had created what today we would call a virus which, at random times, connected to all the hard-copy terminals (the only kind there were then), printed out "I am the unknown glitch. Catch me if you can" and relocated itself in the system.

This piece is George's Unknown Glitch (which he's had for long enough now that it should no longer be so very unknown.) Based loosely on a family of wood-boring marine isopods known generally as gribbles which are pursued by the owners of wooden boats and marine structures with the same vengeance and hostility as computer glitches are pursued by hackers.

Raised and planished 16 ga. steel, forged extremities. Numerous parts assembled by welding, welds concealed by a planished plastron or underbody piece. About 18" long.

Mite


You didn't want to know about these guys. Because there really are things like this. They live in the cracks in floor boards, in the detritus under seat cushions and are sometimes lines up in row like cars in a parking lot on the undersides of the wing covers of beetles.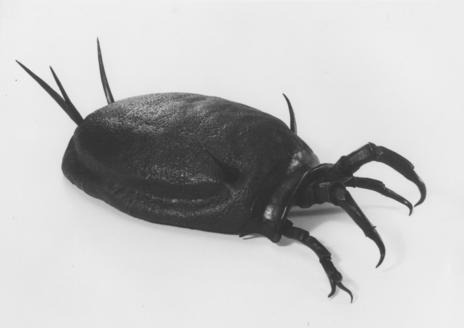 Some of them look pretty much like this one. Some have more spines or hairs. Others look like little science fiction battle tanks so that those legs in the front emerge from what appear to be armored doors. All are rather smallish but you can see them with a good magnifying glass. A 10x or slightly stronger field microscope is better.

This one was made from a piece of 16 ga. that had spent several years as the fire-resistant surface on the floor of my first shop, so pitted with rust that it was hard to sink the shape without perforating the metal -- but what a nice surface texture that gives the little critter. Done before I took Chris Ray's workshop, I didn't know about raising on stakes so this was done with a couple of ballpiens and cavities burned into the end grain a wood block.

This was supposed to be a one-off but after it sold, two people who had seen it came to me and commissioned similar ones.

Steel sheet, forged steel, welding, about 16" long.

The Great Bug Contest

Well, it wasn't all that great a contest but it was fun. Once upon a time, Pancho Peterson dropped by on his travels from Arizona to points unspecified (does anybody know what happend to Pancho?) and spent a few weeks here. One day, I took him to visit another metalworker, a silversmith and jeweler, and over coffee we agreed to have a Bug Contest . We'd each make a bug that day and compare results in the evening. Pancho and I went off to my shop where I had two forges. Pancho made a very creditable dragon fly. And I made this.
Alas, the silversmith pooped out on us and didn't make a bug. But we all had a good time over coffee in the evening yakking about metal and stuff.
War Bug


And then there's Robert Asprin's