Hot Iron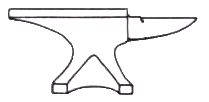 ---



Thoughts on the art of forging hot iron.


About my ironwork, with photographs.


Some translations from the German Kunstschmied's magazine.


Manual, parts list and pics of all the parts scanned from the Acadia booklet.
---
Some Other Metalwork Sites
Maritime Blacksmiths Association

Blacksmiths in Canada's Maritime provinces



Cape Breton Blacksmiths Association

Blacksmiths on Cape Breton, Nova Scotia



The ArtMetal Project



Upper Midwest Blacksmith's Association (UMBA)



Saugus Iron Works National Historic Site in Saugus, Mass.

There's an interesting book, Ironworks on the Saugus that documents the history, excavation and reconstruction of this high-tech heavy industry in the colonial wilderness.




This is the site of the first integrated ironworks in North America, 1646-68. It includes the reconstructed blast furnace, forge, rolling mill, and a restored seventeenth century house.



Gas forge design by the Wizard Gas Forge Hackers:





Artist Blacksmiths' Association of North America (ABANA)

Look here for news of events, electronic newsletters and email lists of interest to art smiths. ABANA is the major North American art smithing organization and has a world-wide membership.




The Guild of Metalsmiths -- Minnesota chapter of ABANA



Architectural and Sculptural Metalsmithing

Dimitri Gerakaris' home page.



Historical metallurgy links and some other links to other Archaeo-metallurgical WWW sites
This list of metalwork sites doesn't pretend to be complete or selective. It's just meant to to offer enough variety to serve as a useful gateway to what's out there. New sites get added whenever I get around to it.
---

Resident Alien
This is also the home of Resident Alien, an occasional electronic publication of satire, critical rants and putative wit.
---
Some other things
Free community network in Halifax, Nova Scotia.

Ben Davis
---
Updated Wed 11 Dec 2013 -- Mike Spencer